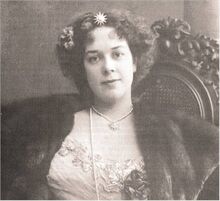 (1872–1936), singer
Dame Clara Butt was the nearest thing to a superstar celebrity in the 1890s. From humble beginnings as a Totterdown schoolgirl, singing to patients at the Bristol Royal Infirmary, she became a world-famous concert singer, celebrated by royalty and adored by millions. She made her professional début at the Royal Albert Hall in 1892. She had a commanding physical presence – she was six feet two inches tall – and a powerful contralto voice which suited the many anthems that she sang, including 'Rule, Britannia' and 'Land of Hope and Glory'.
Anecdote
In March, 2015, the great nephew of Clara Butt came to Bristol from Canada. They visited MShed to look at her painting and the other objects on display and visited Totterdown to look at where she lived.
Ad blocker interference detected!
Wikia is a free-to-use site that makes money from advertising. We have a modified experience for viewers using ad blockers

Wikia is not accessible if you've made further modifications. Remove the custom ad blocker rule(s) and the page will load as expected.