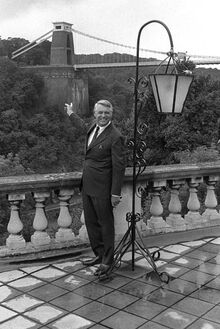 Cary Grant was actually called Archibald Leach when he was born in Bristol in 1904. He went to Bishop Rd Primary School in Bishopton and Fairfield Grammar School in Montpelier.
Whilst at school he started working at the Bristol Hippodrome and this is where he got the acting bug by becoming involved with the Bob Pender comedytroupe. He eventually went to the USA with this troupe in 1920 and continued to dance, sing and juggle.
He became involved with Paramount Studios and in 1931 he changed his name to Cary Grant as the studios said he needed a better name. He starred in many films including North by Northwest and The Philadelphia Story.
When he was 9 years old, Cary was told by his father that his mother had died. In fact she had been admitted to Bristol Insane Asylum. In 1935 his father died and this is when he discovered the truth. He bought his mother a house in Westbury Park and returned to Bristol regularly to visit her.
There is now a bronze sculpture of Cary Grant in Millenium Square,Bristol and a smaller resin figure can be seen in Life Gallery.
Anecdote
Apparently Cary Grants mother could never quite comprehend his fame and fortune and on his visits to her she would give him food items like tins of baked beans to take back with him.
Ad blocker interference detected!
Wikia is a free-to-use site that makes money from advertising. We have a modified experience for viewers using ad blockers

Wikia is not accessible if you've made further modifications. Remove the custom ad blocker rule(s) and the page will load as expected.