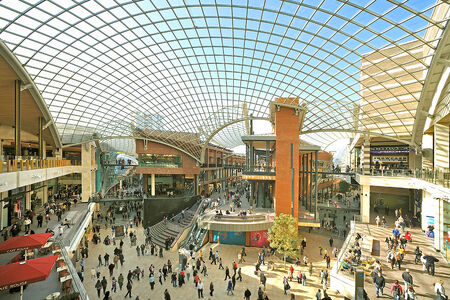 Cabot Circus, Bristol's newest shopping and leisure facility, was named by public vote and opened in 2008.
Major city-centre roads were re-routed to accommodate five enormous areas, each designed by a different architect. These house more than a million square feet (92,900 square metres) of shops and facilities.
As part of the development, two medieval Dominican friary buildings and a 1700s Quakers Meeting House were restored. A huge glass-panelled roof that covers the Central Square was also built and is the first of its kind in the UK.
With its open, airy piazzas, the development has won national and international awards including those that recognise its excellence in retail property, parking facilities and its structural and environmental design.
Built to draw people back to shopping in the city centre, Cabot Circus has made Bristol a regional shopping destination once again.
Ad blocker interference detected!
Wikia is a free-to-use site that makes money from advertising. We have a modified experience for viewers using ad blockers

Wikia is not accessible if you've made further modifications. Remove the custom ad blocker rule(s) and the page will load as expected.