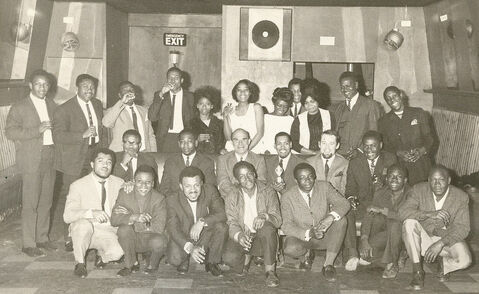 This story is in the Life Gallery in M Shed
Patrick Morrison has been an active member of Bristol West Indian Cricket Club since 1974. He enjoys the opportunity to meet other people who love cricket and share a similar background. 'I can relax in the Jamaican culture. I can talk to other Jamaicans in patois.'
For Patrick, it's a family affair: his three brothers played for the club and his mum and sisters made the tea. He met his wife there and his son now plays for the First XI. Not that the club is exclusively African-Caribbean. The teams are the most integrated in the west of England, with players who are Asian, African-Caribbean and English. Like Patrick, it's the love of cricket that brings them to the club.  He says, 'I have always lived in Bristol since coming to the UK. I had a chance to move away with my work but I didn't want to move... the cricket club was a big part of that decision.
Club Secretary, Joan Field-Thorne, does not play cricket but has always been made to feel very welcome. Having no family in the UK, except an elderly aunt, Joan was looking for a 'sense of belonging'. She says, 'the club became like a family to me; it is a place where people are accepted.' Although she didn't join to play cricket, it is the cricket, she says, which binds them together. The members of the club are united by a common sense of purpose, and by the same sense of belonging she feels.
Ad blocker interference detected!
Wikia is a free-to-use site that makes money from advertising. We have a modified experience for viewers using ad blockers

Wikia is not accessible if you've made further modifications. Remove the custom ad blocker rule(s) and the page will load as expected.