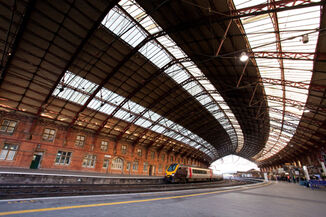 For many people, this is their first glimpse of Bristol as it is the gateway to the city for many travellers. The station was designed by Isambard Kingdom Brunel who also designed London's Paddington Station and Bristol's most famous structure, the iconic Suspension Bridge. The original terminus, now known as the Engine Shed, was built in 1839–41. To accommodate the increasing number of trains, the station was expanded in the 1870s by Francis Fox and again in the 1930s by P E Culverhouse. The original part of the station is designed in Tudor revival style.
Anecdotes
Edit
Ad blocker interference detected!
Wikia is a free-to-use site that makes money from advertising. We have a modified experience for viewers using ad blockers

Wikia is not accessible if you've made further modifications. Remove the custom ad blocker rule(s) and the page will load as expected.