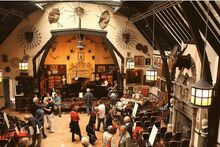 The Bristol Savages is a society whose members are interested in the visual and performing arts as well as good fun and fellowship. They have members who draw and paint, others who make music or write poetry, and those who simply enjoy the creative talents of their fellow members.
The origin of the society was an informal group of artists who met regularly to sketch in the mid-1890s. They formally became a club in 1904, calling themselves The Bristol Savages. Their headquarters is the 'Wigwam' in the garden of the Red Lodge in Park Row where they meet each Wednesday from October until April.
Ad blocker interference detected!
Wikia is a free-to-use site that makes money from advertising. We have a modified experience for viewers using ad blockers

Wikia is not accessible if you've made further modifications. Remove the custom ad blocker rule(s) and the page will load as expected.