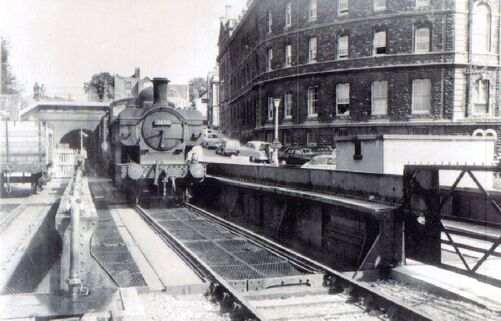 Bristol Harbour Railway was a joint venture by the GWR and the Bristol and Exeter Railway, opened in 1872 between Temple Meads and the Floating Harbour. Its route included a tunnel under St Mary Redcliffe church and a steam-powered bascule bridge over the entrance locks at Bathurst Basin. In 1876 the railway was extended by 1/2 mile to Wapping Wharf. 
In 1978, the preserved railway was established as an element of Bristol Industrial Museum using locomotives built in Bristol and formerly used at Avonmouth Docks. At first, it connected the Museum with the s.s. Great Britain but when commercial rail traffic ceased the museum railway expanded to use the branch alongside the New Cut. The railway operates on selected weekends on standard gauge track for half a mile. The railway is currently in use as far as B Bond Warehouse (home to the Create Centre and Bristol Record Office), a mile from the museum.
Ad blocker interference detected!
Wikia is a free-to-use site that makes money from advertising. We have a modified experience for viewers using ad blockers

Wikia is not accessible if you've made further modifications. Remove the custom ad blocker rule(s) and the page will load as expected.