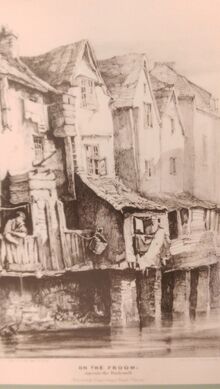 An Access Pillar which stood at Stone Bridge is displayed in the Places Gallery.
A painting of Broad Quay, not the image to the right, (showing the now culverted river), about 1760, by the British School (K415) is on display in the Places Gallery. This painting has been formerly attributed to Philip Vandyke, Dutch Artist 1729 - about 1808) (BBC Your Paintings & NICE -The National Inventory of Continetal European Paintings)
It had previously been attributed to the British School and also Peter Monamy (English marine painter 1681-1749) Exhibited below the Princes Wharf sign on the way to the cafe in Places
The unculverted course of the Frome through the city can be seen in the 'Expanding Bristol' display in the Places Gallery.
The watercolour painting 'Entrance to The Pithay from Union Street, 1823, by James Johnson', from the Braikenridge Collection, shows the Frome where Fairfax Street now is, and can be compared with a 2001 view, on the ICT in the Visual Arts section of the People Gallery.
The River Frome, historically Froom, originally joined the River Avon as a tributary near Bristol Bridge, and formed part of the city's defences (following the city wall along the course of what is now Baldwin Street ('Balanco Street' on Hoefnagal's Brightstowe map of 1581), but in the 13th Century it was decided, through negotiation with the Abbot, to build a new harbour by diverting the River through marshland belonging to St. Augustines Abbey, to join the River Avon at Canon's Marsh. This section, known as St. Augustine's Reach, was completed in around 1248.
From 1826 onward, underground channels (culverts) were constructed. This was done to divert the Frome and the sewage it carried into the New Cut. In addition, the docks to the north of St. Augustine's reach had become increasingly marginal by the late 19th Century, due to the creation of the Floating Harbour, and newly built docks at Portishead and Avonmouth. New Roads, such as Rupert Street and Colston Avenue, were built upon the River's course, creating the Tramways Centre.
The river runs underneath Broad Weir, Fairfax Street and Rupert Street. The original culverted section ran from Broad Weir (disappearing underground in St. Jude's) and St. Augustine's Reach. However at the site of the former Stone Bridge, near the junction of Rupert Street and Christmas Street, the main flow is now channelled through Mylnes Culvert. This follows the course of Marsh Street, Prince Street and Wapping Road, and joins the New Cut close to Gaol Ferry Bridge. The culverted section (the original course of the river) between Stone Bridge and St Augustine's Reach is now a flood relief channel.
Ad blocker interference detected!
Wikia is a free-to-use site that makes money from advertising. We have a modified experience for viewers using ad blockers

Wikia is not accessible if you've made further modifications. Remove the custom ad blocker rule(s) and the page will load as expected.