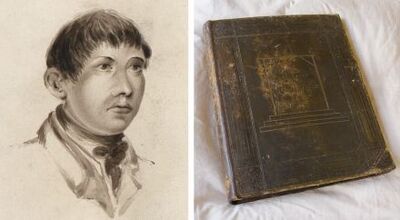 Book of trial notes 1821.  John Horwoods skin was used to bind this book.  The latin inscription on its front cover "Cutis vera Johannis Horwood" which translates as "the actual skin of John Horwood".
John was convicted of murder when he was 18 years old.  He had thrown a stone at Eliza Balsam when his advances were rejected and she died after an operation on her skull.
This object is on display in Places Gallery in M Shed
FYI: The book is not the only object associated with human skin in Bristol. It is reputed that beneath the layers of paint and varnish on the door to The Hatchet Public House (c1606) on Frogmore Street there is Human skin stretched across the body of the door, and not just one poor souls outer layer! Mike.