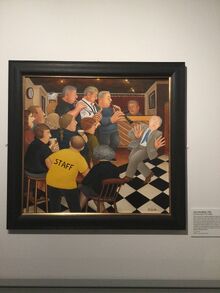 Beryl painted many social scenes in Bristol with a specific style showed her great fondness for the city. She tended to represent people as larger than life characatures, often enjoying company of friends / acquaintances and their surroundings. Her work can be seen in Places Gallery and Life Gallery.
Life Gallery: 'Jazz in the Winter', 1998. Oil on Panel.
The artist and her husband enjoyed the Jazz at Bristol Old Duke in King Street on Friday nights. "Here I've painted that lIttle old man I saw dancing drunkenly there one night...."
Places Gallery: 'The Ferry', 2001. Oil on Panel
(need image and caption)
Ad blocker interference detected!
Wikia is a free-to-use site that makes money from advertising. We have a modified experience for viewers using ad blockers

Wikia is not accessible if you've made further modifications. Remove the custom ad blocker rule(s) and the page will load as expected.