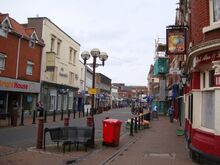 Bedminster is a Bristol neighbourhood. It lies on the south side of the city, and was in Somersetuntil 1831. It is also the name of a council ward, which includes the central part of the district and some other areas.
The eastern part of Bedminster is known as Windmill Hill. To the south of Bedminster is high ground known as Bedminster Down.
originally Bedminster was a medieval market town.
Ad blocker interference detected!
Wikia is a free-to-use site that makes money from advertising. We have a modified experience for viewers using ad blockers

Wikia is not accessible if you've made further modifications. Remove the custom ad blocker rule(s) and the page will load as expected.