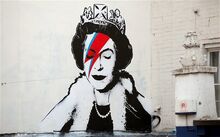 This person is on display in the
Contributing Wrap in
the
People Gallery
The true identity of Banksy remains a closely guarded secret. A network of myths has sprung up around him: that his real name is Robin Banks, he used to be a butcher, he is Robin Gunningham, a former public schoolboy from Bristol with a passion for art, or that Banksy is actually a collective of artists and therefore does not exist at all. Banksy's refusal to reveal himself may have started to avoid prosecution for what might be regarded as vandalism, however, by remaining anonymous he has created an air of mystery which has helped him to become one of the most successful artists of his generation.
Banksy began as a freehand graffiti artist (he didn't use stencils) between 1990 and 1994. He was part of a larger Bristol underground scene with artists such as, Nick Walker, Inkie and 3D. During this time, he met Bristol photographer Steve Lazarides, who began selling Banksy's work and later became his agent. By 2000, he had turned to the art of stenciling after realizing how much less time it took to complete a work. He claims he changed to stenciling while hiding from the police under a rubbish lorry and noticed the stenciled serial number.  Banksy's first known large wall mural was 'The Mild, Mild West' painted in 1997 in Stokes Croft Avenue, Bristol. It depicts a teddy bear lobbing a Molotov cocktail at three riot police.
Banksy's stencils feature striking and humorous images occasionally combined with slogans. The message is usually anti-war, anti-capitalist or anti-establishment. His subjects include rats, apes, policemen, soldiers, children, and the elderly.
His works include: Mild Mild West ,
In July 2011, one of Banksy's early works, 'Gorilla in a Pink Mask', a prominent landmark on the exterior wall of social club in Eastville, Bristol for over ten years, was unwittingly painted over after the premises became a Muslim cultural centre.