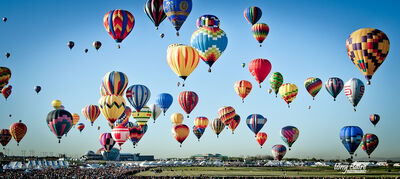 This display is in the People Gallery
Bristol International Balloon Fiesta has become Europe's largest hot-air-ballooning event. As one regular visitor commented:
'It gives pride to people as well as the fun and enjoyment of it all … My grandmother was very proud of Cameron Balloons and the whole thing being based in Bristol.'
Maria-Patricia, 2009
The professionals agree that Bristol and ballooning are uniquely joined.
'Bristol is a crazy place for ballooning. There's an international airport, the sea, one of the largest tidal rivers in the world, but the pioneers of modern ballooning are here.'
Ian Martin, Flying Enterprises, Bristol, 2009
'Balloons make people smile … every year it is still a magical thrill to see them take to the skies.'
Susan, 2009
Ad blocker interference detected!
Wikia is a free-to-use site that makes money from advertising. We have a modified experience for viewers using ad blockers

Wikia is not accessible if you've made further modifications. Remove the custom ad blocker rule(s) and the page will load as expected.