A plaster bust made from Alfred's death mask, is displayed in the
People Gallery
.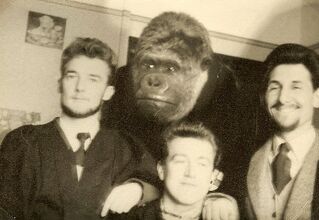 From his arrival at Bristol Zoo Gardens in 1930, Alfred was destined for stardom.  A great rarity and huge attraction; for two years he regularly partook of walks around the grounds accompanied by his keeper, before he became too large and strong.  Thereafter he became increasingly famous, as much for his dislike for bearded men, double-decker buses and aeroplanes (and for his nearest rival as the star of the Zoo, Rosie the Elephant) as for his antics in his enclosure.  During the war years of the 1940s thousands of postcards of Alfred were posted back to the USA from servicemen billeted in the city, so spreading his star status across the globe.  At his death in 1948 he was the longest lived gorilla in captivity anywhere in the world and a true animal celebrity.  He is still remembered fondly by those who marvelled at him as children escaping the austerity of war through a trip to the zoo.
His taxidermic form is in Bristol Museum and Art Gallery. In 1956 Alfred went missing for a weekend and the actual happenings were a complete mystery until 2010 when one of the people who took him died. Ron Morgan along with 2 other fellow students, Fred Hooper and DB took Alfred from the museum to their Clifton flat in the boot of a Vauxhall car. They kept him hostage for 60 hours and passed the time by dressing him up in hats and wigs and taking a lot of photographs of hiM which they kept in a scrapbook. They always intended to return him and they did this by leaving him in a waiting room of a medical centre. Morgan swore his family and friends to secrecy and the full story was only revealed at the time of his death in 2010.
Ad blocker interference detected!
Wikia is a free-to-use site that makes money from advertising. We have a modified experience for viewers using ad blockers

Wikia is not accessible if you've made further modifications. Remove the custom ad blocker rule(s) and the page will load as expected.