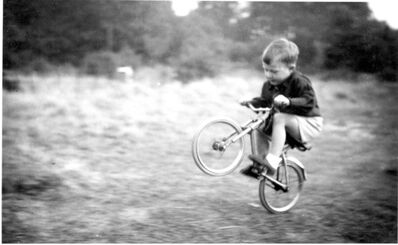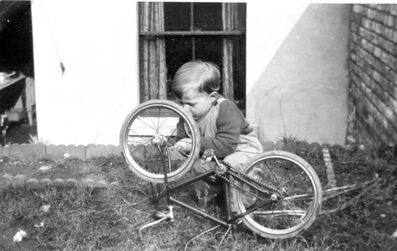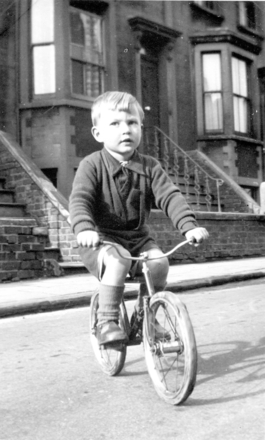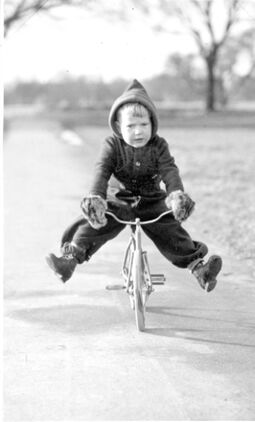 At the age of 2 1/2, Mervyn Alexander (junior) began a brief but impressive cycling career.
His father, Mervyn (senior) had been an engineer for Bristol Aeroplane Company whose passion for motorcycles led him to win test races on Douglas motorcycles, before establishing his own company "Alexander Motorbikes" in Bristol.
Mervyn  jr. was given a series of cleverly crafted miniature vehicles his father made for him to play with, from a bicycle side-car which he rode in as a baby, through to open-topped cars and a penny farthing. His favourite, however, was a tiny mountain bike without stabilisers on which he first learned to ride and do clever tricks.
The bike needed to be strong enough to survive the wheelies, tricks and jumps that little Mervyn enjoyed. After the frame repeatedly broke it was improved with telescopic wheel forks, a key feature in mountain bikes today, but state-of-the-art for its time, and unique in such a little bike.
Mervyn's cycling career was short-lived. He quickly outgrew his much-loved bicycle but his home-made bicycle was so well built and fondly kept that his own son Scott learned to ride on it in 1969 and then his grandson Max  in 2007.
The bike is now waiting until the youngest member of the Alexander family, Thomas, born April 2007, is ready to ride it again.
Ad blocker interference detected!
Wikia is a free-to-use site that makes money from advertising. We have a modified experience for viewers using ad blockers

Wikia is not accessible if you've made further modifications. Remove the custom ad blocker rule(s) and the page will load as expected.