This object is displayed in the
Places Gallery
.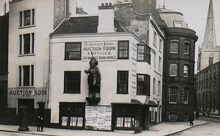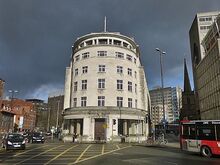 The pillar provided access to the storm gates of the the River Frome (historically Froom) between 1895 and 1998. Downstream, the Frome has been carried under the city in culverts Since the late 19th and early 20th Centuries.
In 1998, the Environment Agency carried out work in on the Fosse and Stone gates of the Frome culverts, outside the former Electricity House (SWEB) on the corner of Rupert Street and Quay Street, and the green "pillar box" was removed.
In the middle photo, the pillar can be seen in its location to the bottom left. The last photo shows the former Electricity House at the same location today.
N.B. the middle photograph also shows the Demerara Figurehead.
Ad blocker interference detected!
Wikia is a free-to-use site that makes money from advertising. We have a modified experience for viewers using ad blockers

Wikia is not accessible if you've made further modifications. Remove the custom ad blocker rule(s) and the page will load as expected.