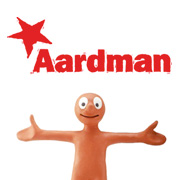 Aardman was founded in 1972 by Peter Lord and David
Sproxton, whose aim was to produce an animated motion picture. The partnership produced a series of short animation ranging from 'Vision On' a BBC series for deaf children to short pieces that were to inspire the clay character 'Morph'. Aardman also supplied animation for the multiple-award winning music video of Peter Gabriel's song, Sledgehammer.
In 1989, Aardman animator Nick Park's short, 'Creature Comforts', was the first Aardman production to win an Oscar. He also developed the famous 'Wallace and Gromit' characters; Wallace an eccentric English inventor with a love of Wensleydale and his best friend, Gromit the dog. The Wallace and Gromit shorts include: 'A Grand Day Out' in 1989, 'The Wrong Trousers' in 1993, and 'A Close Shave' in 1995 (the latter two winning Academy Awards) and later, 'A Matter of Loaf and Death' in 2008.
Aardman have also produced a number of feature films such as 'Chicken Run' in 1997, 'Wallace & Gromit: The Curse of the Were-Rabbit' in 2005, 'Flushed Away' in 2006, 'Arthur Christmas' in 2011, and 'The Pirates! In an Adventure with Scientists' in 2012.
On 10 October 2005, a serious fire at a storage facility used by Aardman and other Bristol-based companies destroyed over 30 years of awards collected by the company as well as props, models, and scenery often built by the Bristol-based design company, Cod Steaks. Park was quoted as saying, "Even though it is a precious and nostalgic collection and valuable to the company, in light of other tragedies, today isn't a big deal."
Aardman is also known to provide generous resources and training to young animators by providing awards at various animation festivals such as the Aardman Award at the UK's Animex Festival in Teesside. In 2013, Peter Lord (co-founder of Aardman Animations) created a fundraising project to raise £75,000 to fund 12 new episodes of Morph.