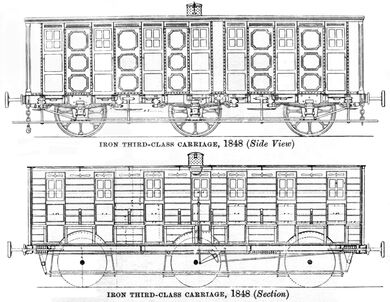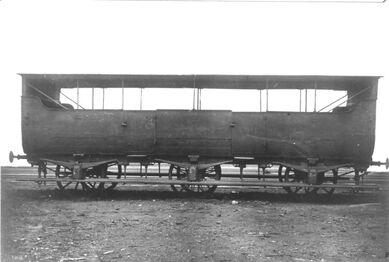 This info is on display in the Moving by rail section in Places Gallery
In the early days of the GWR, travellers were divided according to the price of a ticket, which was tantamount to a class-division. Third-class travel was slow and uncomfortable and not all people agreed with the system. An article in the Bristol Mercury, 1 January 1842 commented:
On our Great Western Railway, for instance, how admirably are the gradations of society preserved! The thirty-shilling aristocrats loll upon luxurious coaches, securely protected from wind and weather; the one-and-twenty shopocrats sit upon uncovered seats, exposed to all the "skyey influences," anticipating that draughts will lead to draughts, and indulging in doleful visions of stiff necks, sore throats, coughs, catarrhs, doctors and doctors' bills; whilst the twelve-shilling mobocracy, coming under the denomination of "the swinish multitude" are appropriately packed off with the pigs in the luggage train! Nor does the distinction end here. The two former classes are whirled the whole distance in four hours, whilst those to whom time is, emphatically, money, are detained on the road for twelve hours! ....we contend...that all the passengers ought to be sent by one train; that all ought to have an equal chance at least of safety on the road; that all ought to be protected...from the weather; and that the distinction of classes ought to be made in luxuries rather than comforts.'"
An Act of Parliament in 1845 required train companies to provide cover for all passengers, but Third Class passenger conditions were hardly improved because the new coaches had no windows.
Ad blocker interference detected!
Wikia is a free-to-use site that makes money from advertising. We have a modified experience for viewers using ad blockers

Wikia is not accessible if you've made further modifications. Remove the custom ad blocker rule(s) and the page will load as expected.