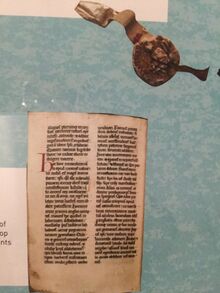 One thousand years ago, when slavery was part of Anglo-Saxon life, Bristols merchants were selling enslaved white people to Viking settlers in Ireland. Some of the poorest accepted slavery voluntarily. Some were prisoners of war. Sometimes a family sold a child to avoid starvation. But merchants also kidnapped beggars, orphans or someone in the wrong place at the wrong time. This ancient custom was banned in 1102.
this page from William of Malmesbury'S " Life of Wulfstan " ( Vita Wulfstani in Latin ) refers to Bishop Wulfstan of Worcester codemning the merchants of Bristol for trading in enslaved people. wolfs tan had become a Catholic Bishop in September 1062. He was a pious, a social reformer who cared for the poor and who preached courageously against the slave trade in Bristol.
Ad blocker interference detected!
Wikia is a free-to-use site that makes money from advertising. We have a modified experience for viewers using ad blockers

Wikia is not accessible if you've made further modifications. Remove the custom ad blocker rule(s) and the page will load as expected.