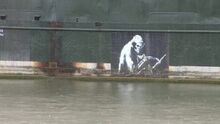 Banksy painted the Grim Reaper onto the Thekla, a ship and nightclub venue, around 12 years ago but exposure to the elements was causing ongoing deterioration, with the tag having disappeared completely.
While the Thekla was in dry dock in August 2014, DHP Family removed the Grim Reaper from just above the waterline on the ship's steel hull and arranged to loan the valuable artwork to us on a long term basis.
After being cut from the Thekla, the painting was moved to our storage facilities and assessed for conservation. The conservation work was carried out by IFACS on Park Street who helped to investigate what had occurred to the work after being partially submerged in the harbour water. The piece was examined for rust and deposits and the spray-paint was tested so cleaning could be carried out without compromising the image.
You can now see 'The grim reaper' on display outside the 'Life' gallery at the MShed museum in Bristol.
Ad blocker interference detected!
Wikia is a free-to-use site that makes money from advertising. We have a modified experience for viewers using ad blockers

Wikia is not accessible if you've made further modifications. Remove the custom ad blocker rule(s) and the page will load as expected.